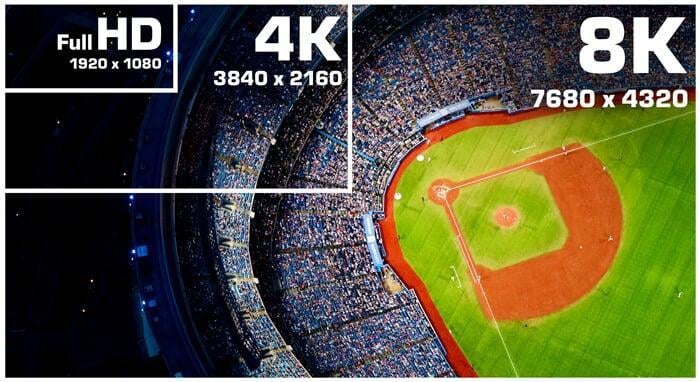 8K covers a video resolution of 7680x4320. It represents 33,177,600 pixels in a 16:9 aspect ratio. A more accurate term is UHDTV2 for broadcast and live events.
8K is the highest resolution TV that has been released. With four times more pixels than 4K/UltraHD TVs, 16 times more than HD TVs. 8K TVs display a sharper and more detailed picture. In 8K TVs, pixels are so small they cannot be distinguished even from close up, making highly detailed images a reality.
With 33.2 million pixels per image, 8K at 120 frames per second leads to 240 billion pixels to be transported, managed and stored every minute.
That's 8K. And that's a lot of pixels !
Innovating beyond HD, the Japanese broadcaster NHK took the road to develop the new 8K standard. When we speak about UltraHD, it exists in fact two families of formats:
​​8K Transport, Storage, Displays: New challenges
8K uncompressed is unaffordable and unmanageable within current systems and infrastructures. It requires hardware upgrades, renewal of infrastructure and increases the power consumption notably. The table below shows the required bandwidth induced by a transition to 8K in RAW Bayer, 422 or 444, and higher quality video.
Retaining the current approach of uncompressed video for connectivity, the only options are:
1. increasing the amount of cables and connectors

2. using expensive, high-bandwidth cable



This would lead to vast investments and an additional rise in power consumption.
 FORMAT

 BITRATE*

 INTERFACES

8K  60p, RAW Bayer CFA, 10 bit

 23.76 Gbps




2x12G-SDI or 2xHDM2.0




4x10GbE Port or 40GbE Port




 8K 60p, 4:2:2, 10 bit
8K 60p 4:4:4, 12 bit
 39.81 Gbps
71.66 Gbps

 16x3G-SDI or 4x12G-SDI (in 4:2:2 only)

4xHDMI v2.0 or 1xHDMI v2.1
*See our online bitrate calculator here
8K TicoXS IP-cores
​
for manufacturers
intoPIX's small, lightweight, low power 8K IP-cores are designed for FPGA (Xilinx & Intel) and ASIC (TSMC,...). They support the UHDTV-2 format up to 60 or 120fps, up to 444 and up to 12 bits. Fully compliant with the JPEG XS ISO norm, they also include additional innovative processing techniques, extending the coding range and vastly increasing image quality well beyond the standard.

8K FastTicoXS SDKs
​
​for manufacturers
Our FastTicoXS SDK Ultimate Software supports up to 8K encoding/decoding, supporting 8K at 60fps, 4:2:0, 4:2:2 or 4:4:4, from 8 to 12bit. It can target x86-64 CPU (from Intel or AMD) and Nvidia GPUs.
8K TicoXS FIP

for 8K over Wireless & CAT5E cables



IP-cores & Software for manufacturers
A full range of 8K encoders & decoders supporting JPEG XS with Flawless Imaging profile (FIP) delivered as IP-cores for FPGA, ASIC & software libraries. TicoXS FIP is perfect for extending 8K over CAT5E cables and over Wireless (WiFi-6, 60Ghz). The solution includes error concealment to packet losses with no latency and the advanced Flawless Imaging profile to compress the most complex 8K screen content below the gigabit with 100 microsecond of latency.
8K TicoRAW
​
IP-cores

&

Software for camera makers

&

RAW-bayer workflows
intoPIX TicoRAW 8K solutions enable to optimize RAW capture, transfer, recording and editing at the speed of light. Low power in camera, it enables to capture, store and stream RAW Bayer (CFA) at the size and bandwidth of a regular JPEG file.
Our IP cores (encoder/decoder) support up to 8K (or beyond), at 60 fps (or beyond), handling RGGB raw from 8 to 16bit. They are made for FPGA & ASICs

Our software libraries target x86-64 CPU (from Intel or AMD) & Nvidia GPUs with unbelievable speed to decode & encode
8K for Adobe Premiere
​
with intoPIX XS Plugin
Our 8K Plugin for Adobe Premiere enables users to import, export, edit, 8K video at the speed of light, without an intensive load on the CPU or GPU. It is super fast, and super flexible.
​​Manageable 8K workflows: IP Network
In a time of rising resolutions and the constant need for simplified connectivity (of things), many AV professionals are switching to IP-based infrastructures. intoPIX solutions can reduce the bandwidth of an 8K 60p video stream to less than 2.5 Gbps while remaining lossless quality and inducing virtually no latency. This enables users to run it over standard 2.5GbE / 5GbE / 10GbE networks (CAT5E and CAT6 cables & switch) – a currently extremely cost-effective installation with the additional advantage of simple cable length extension by adding a switch every 100 meters. This can be achieved using standard-based protocols such as SMPTE 2110-22 or SMPTE 2022-2 which both support JPEG XS.

From an expensive uncompressed IP workflow...
...to a new bandwidth-efficient workflow using intoPIX
​​Manageable 8K Workflows : Compressed SDI
The industry has recently massively invested in SDI infrastructures and might wish to prolong its use in the face of a conversion to Ethernet. It is however still confronted with the challenge of increased resolutions. To avoid the management of more cables and/or more expensive ones, complex interfaces, additional complexity and the splitting of one stream over multiple cables, intoPIX provides 8K solutions enabling users to retain their current 3G-SDI or 12G-SDI cabling and still transport 8K video.

Deploying intoPIX compression for 8K not only saves cost, but also greatly reduces power consumption and infrastructure complexity. In addition to a reduced amount of cables, TicoXS compression also reduces the amount of cross-points in a matrix switcher from 6400 to a mere 25.

intoPIX has defined a unique proprietary method to map JPEG XS Codestream over SDI environments (including protecting the EAV/SAV codes) that offers a gain of 20% of efficiency.

​​Speak now with a 8K Solutions Expert